Witch's Gate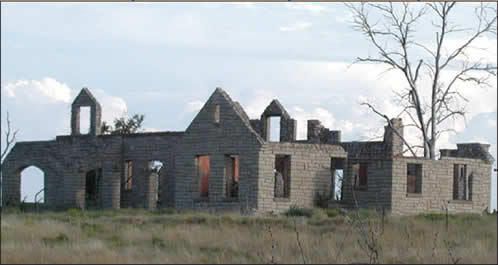 "Two armed intruders, at least one in blackface makeup, Saturday night killed Jim Keith, 61, in his sumptious Clay County ranch home and trussed his brother, Kenneth, 70, before ransacking the house of a valuable collection of guns and antique jewelry."
That was the lead on a front-page story titled "Clay County Rancher Murdered" which was printed in the July 14, 1975 issue of the Wichita Falls Record News, the newspaper at that time.
According to the article, about 9:30 p.m. on July 12, Kenneth Keith was getting ready for bed when he heard voices coming from his brother's room. As he stepped into the hall, he heard a gunshot. When Kenneth reached his brother's room, he found him, shot in the back, in a pool of blood.
An armed man with a painted face pushed Kenneth back into his room at gunpoint and bound him. Some time later, two armed men returned to release his bonds, in order to force him to open the house safe. They then retied him.
The thieves made off with several vintage and collectible firearms and antique jewelry, leaving the house at about 3 a.m. after disabling the telephone. Kenneth Keith worked himself free of his bonds and drove to the Jolly Truck Stop, from where he reported the murder-burglary.
Twelve years after the incident, in the October 31, 1987 issue of the Times Record News, Judith McGinnis did a follow-up piece concerning the Keith murder. According to her article, the four men involved in the murder-burglary were Clyde Theron Burns, Lonnie Dale Lloyd, Alton Woodruff Fanchier, and William Leon Pinson Burns.
Pinson Burns was the man who pulled the trigger. Special prosecutor for the case, Howard Martin, said the robbers had gone to the ranch that night in search of a valuable coin collection reportedly worth $200,000. Another criminal who had seen the collection advertised in a magazine tipped them off. However, Kenneth Keith had donated said coins to a museum in Denver, CO more than a year prior to the robbery.
Jim and Kenneth lived in the Keith home together and continued the work of their father, raising Herefords. Jim never married; Kenneth married and divorced. Neither man had any children. After the murder, Kenneth moved into a neighbor's home.
In February, 1976, just eight months after Jim's gruesome murder, arsonists destroyed all but the stone shell of the home. Because the blaze occurred just days after Clyde Burns was arrested, many people believed there was a connection. Though it was determined to be purposefully set, there was no formal investigation into the fire.
Burns, Lloyd, and Fanchier pled guilty to murder and each was sentenced to 20 years in prison. Evidence produced during the trial proved that Pinson Burns pushed the barrel of a shotgun through a screen at Jim's bedroom window and shot him in the back as he tried to escape.
On Jan. 30, 1970, the jury deliberated for a mere six minutes before returning with a guilty verdict. They sentenced Pinson Burns to life in prison, to be served in Kansas's Leavenworth Penitentiary.
In April, 1980, Pinson Burns was released from Leavenworth due to health reasons and fled to New Mexico. Officers there arrested him on unrelated charges and he was sent back to prison in Huntsville, where he died three years later.
On June 19, 1977, Kenneth Keith died, just five months after the last of his brother's killers were convicted.
The gutted house stands off of US Hwy 287, between Wichita Falls and Henrietta. There are many local tales of Satanists performing rituals and sacrifices there. Residents exploring the site claim to have found human bones. And sometimes, as it nears dark, the home appears to be on fire.



Screaming Sheila Bridge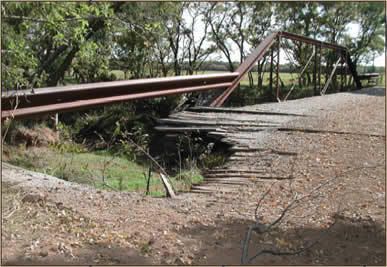 There is a faded and abandoned bridge, eight to ten miles north of Electra, which is no longer used because a girl named Sheila died there. There are varying stories as to what actually happened to her.
An Electra resident known just as "Hollywood" said that, when he attended Electra High School in the 1980s, the legend was that Sheila had been hung off the side of the bridge, swinging over the river as she gasped for her last breath.
Another version of the tale is that Sheila was burned alive on the bridge, evidenced by a large hole burnt completely through it. "Hollywood" disproved this story when he confessed that he and some buddies had, during high school, had a party on the bridge and accidentally set it on fire.
This means, however, that the bridge was shut down prior to the fire, when its framework and steadiness were still sound.
So what happened to a girl on that bridge so many years ago to cause the area's citizens to close down a perfectly good, and often used, road?
Were a person unfamiliar with the bridge to set out in search of it, they would have great difficulty locating it. Past the town of "Punkin Center," there is a road, Wolf Road, which runs east toward Iowa Park. Were some adventurer to follow the road past where its pavement ends, he or she would find themselves at the unusual intersection of Wolf and Moeller roads.
In one direction, Moeller road extends farther than the eye can see, a packed dirt road that leads back toward Electra and civilization. In the opposite direction, after just a few hundred yards, Moeller road becomes overgrown with grass and weeds. The line of an electric fence stretches across the road, barring entry or exit. The line belongs to a local rancher who put it in place to hold his cattle. The road is still a public road, though, and as long as explorers re-connect the fence, there is no problem with going through to investigate.
Past that electrical line, down a long, rarely-used path, and on the other side of some old construction barriers, sits Screaming Sheila bridge and the ghost of Screaming Sheila, long-lost, but not forgotten.

White Sanitarium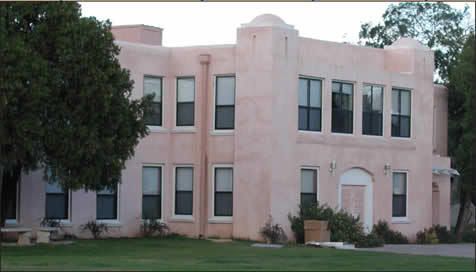 The F.S. White Sanitarium, located at the corner of California and Olen roads, opened in 1926 under the direction of Frank S. White, a man who had been superintendent at the state asylum in Austin before the turn of the century. He first advocated providing a non-institutionalized lifestyle for his patients to diminish the effects of the asylum itself on their sanity. He ran the facility for just five years before retiring for health reasons.
In 1939, the building was abandoned after it was damaged due to severe flooding. The building remained a local haunt for daring teens until 2002, when Gilbert Rios, who was 70 years old at the time and retired, purchased the building for $15,000, a measly price for such a vast estate.
There were so many tales of horror and hell associated with the asylum that most investors wouldn't touch it.
A group of Houston ghost hunters contacted Rios in August, 2002, requesting a visit to the asylum. They set up shop in the White building, monitoring it for any signs of supernatural activity. The results were inconclusive at that time.
Rios is not a superstitious man nor does he believe in ghosts. His purpose for the asylum is to repair and refurbish it into an apartment complex. The building now possesses a fresh coat of pink paint, a well-manicured lawn, and attractive landscaping.
Though Rios does not believe in ghosts himself, that doesn't mean they aren't there. One MSU student told a tale of high school friends discovering abandoned manacles in the asylum's basement. Local residents tell stories of ghosts seen playing cards, as well as unexplained screams heard, coming from the direction of the asylum, in the dark hours of the night.

Ghost Town of Clara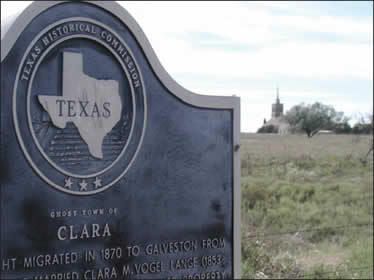 In 1870, a man named Herman Specht migrated to Texas from Germany. Fourteen years later, he married a wealthy widow by the name of Clara M. Vogel Lange and began purchasing Wichita County land, amassing a total of 21,000 acres. Just two years after that, in 1886, he platted the town of Clara, named for his wife, about ten miles north of Iowa Park.
Specht asked German colonists from other states to make Clara their home. The Spechts ran a wheat ranch at Clara. There was also a large experimental nursery for unusual plants located north of Clara's Trinity Lutheran Church.
Then came the drought of 1891.
It wiped out the nursery and all of Specht's crops. A storm in 1900 Galveston storm destroyed the remainder of the Specht's vast holdings.
Hampered by an inadequate water supply, which eventually dried up, the town of Clara continued to decline when its school was consolidated with the Burkburnett school district.
During the oil boom of the 1920s, many of the town's residents moved to Wichita Falls. Good roads and cars made it possible to shop elsewhere.
The town finally vanished except for the church, the rectory, and the cemetery.
Visitors who photograph cemetery tombstones often get smoky, ethereal elements appearing in their developed photos. The oldest grave in the cemetery belongs to Pleasant Queen, buried in the early 1800s. Her ghost is said to haunt the graveyard to this day.
If you stand quietly in the midst of the tombs, some say you can hear their ghosts crying.